Upcoming Events
Our Men's Retreat will be Friday, March 31st to Sunday, April 2nd at Bethel Horizons in Dodgeville! Come for a time of fellowship and growing in the Lord together! You can get more information & register on our men's ministry page here.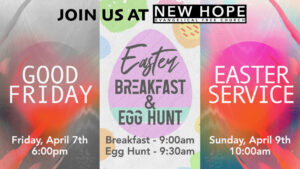 You're invited to join us this Easter! We will be gathering on April 7th at 6:00pm for our Good Friday service. Our Easter Sunday celebration on April 9th will kick off with a full breakfast for the whole family & egg hunt for the kids followed by our Easter Sunday service at 10:00am when we will gather to celebrate our Risen Lord!
We are so excited to once again be having our Easter Breakfast & Egg Hunt on Easter Sunday, April 9th! Breakfast will begin at 9:00am with the Egg Hunt happening around 9:30am. Our Easter Sunday service will follow at 10:00am! We can't wait to celebrate our Lord's Resurrection with you all!
We would love for you to join us for a Progressive Dinner on Friday, May 5th starting at 6:00pm. You can sign up at the welcome center on Sunday & we'll announce more details at the date gets closer!